Car accidents, specifically rear-end collisions, involve rapid acceleration and deceleration combined with large amounts of force being applied on the occupants of the cars involved resulting in car accident injuries. This rapid acceleration of the head frontward and backward, or even side to side, from car accidents, is what causes car wreck injuries to the neck, back, and spine. Putting the body under these forces can cause it to be strained, stretched and pushed in ways that it was not meant to be, and this is the cause of auto accident injuries.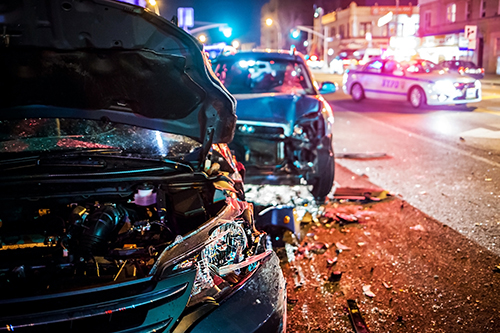 Whiplash is just one of many types of car accident injuries that can occur in a car accident. Where whiplash is considered to be a minor injury and typical of a rear end collision, it can require chiropractic care and physical rehabilitation to heal properly. There are also more severe car accident injuries such as spinal cord injuries that result in lifetime disabilities that require constant medical care and/or chiropractic care and physical rehabilitation.
If you have been injured in an auto accident recently, or if you have been involved in an accident recently, and are experiencing discomfort, you should seek chiropractic attention immediately. All Injury Rehab and Chiropractic has eight Dallas area locations in North Texas, each staffed by highly trained and skilled chiropractors who are skilled in the treatment of car accident injuries. Visit one of our clinics today for a complete evaluation and digital diagnostic exam.
Specific Car Accident Injuries Information
Car Accident Injury
Car Accident Neck Pain
Car Accident Shoulder Pain
Car Accident Upper Back Pain
Car Accident Lower Back Pain
Car Accident Nausea