About All Injury Rehab & Chiropractic Clinic
Car accidents are among the most common disasters on the planet. Thousands of accidents happen every day around the world. But mankind has learned to cope with this problem.
Most often, accidents affect the human skeleton and joints. And as a result, a person experiences pain and discomfort when moving. It is necessary to take a set of measures to ease the condition of a person after a car accident.
Our accident and injury treatment center specializes in chiropractic and rehabilitation after:
Car accidents
Sports injuries
Injury at work
We provide our clients with professional treatment based on 23 years of practice. Our professional staff has 14 of the best chiropractors who are ready to help you at any moment.
In case of injury, you can always use our main principle:
Call for a free consultation
Get a free transfer
Get treated on the day of the accident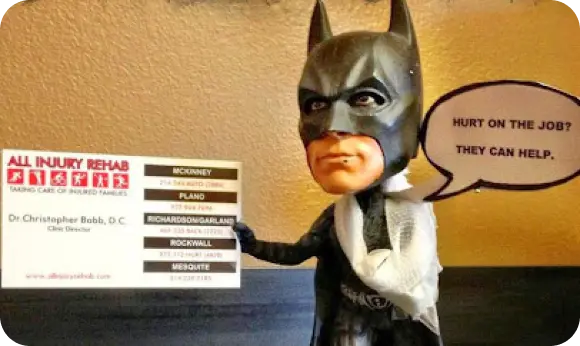 Our History
All Injury Rehab & Chiropractic was founded as a chiropractic and physical injury recovery clinic in Plano, Texas.
And it has expanded over time to eight offices in Dallas. They all specialize in the treatment of auto accident injuries. We have recruited many professionals and specialists to take part in our rehabilitation programs.
Today, All Injury Rehab & Chiropractic is a multidisciplinary injury recovery facility. It covers all types of injuries caused by motor vehicle accidents.
Our accident and injury treatment center provides all types of treatments after car accidents. We provide modern equipment and state-of-the-art service according to all modern standards.
Our Mission
Today, car accidents are one of the most frequent accidents on the planet. Accident injuries can range from minor to very serious.
But even in the case of minor ones, patients may begin to experience complications in the future.
Our primary goal is to help patients recover from injuries as quickly as possible. We also want to reduce the risk of future injuries. To achieve this, the clinic offers a range of treatment options. They are all tailored to the specific needs of each patient.
These may include:
Chiropractic adjustments
Rehabilitation exercises
Massage therapy
Physical therapy
Our Professional Team
Every professional clinic must have a pool of professional staff. And our injury rehab is no exception. Their
Our professionals have the necessary skills, knowledge, and expertise. They are to provide high-quality medical care. They have a thorough understanding of the latest medical technologies and treatments.
expertise enables them to:
Diagnose illnesses accurately
Develop effective treatment plans
Provide appropriate medical care to patients
What Sets Us Apart From Other Chiropractic Clinics?
Today, we have several principles that differentiate us from other clinics. Among them are:
Modern medicine

Our clinic uses only modern and professional equipment. With these devices, we can pinpoint the exact source of a patient's problem. This helps us to make a correct diagnosis and start a course of treatment as soon as possible.

Speed while working

Our injury rehab values a careful approach to patients. But this does not prevent our specialists from providing help as quickly as possible. This allows our patients to receive treatment and relief in the shortest time.

Personal approach to each patient

You will find yourself in a friendly atmosphere, from nurses to professional therapists. Our specialists will study your problem individually. And they will select the right treatment for you.

Help with insurance

We are aware of the complexity of dealing with documents after car accidents. That is why we are trying to reduce your condition in all available ways. One of these is help with insurance documents.
How All Injury Rehab & Chiropractic Clinic Can Help You?
Our All Injury Rehab & Chiropractic clinic is a healthcare facility. We specialize in treating musculoskeletal injuries, particularly those caused by accidents and trauma. The clinic employs a team of skilled and experienced:
Chiropractors
Physical therapists
Massage therapists
They work together to provide patients with comprehensive care. This care addresses the root cause of their pain and discomfort.
Among our chiropractic clinic's services, there are:
Chiropractic adjustments are a cornerstone of the clinic's approach to care.
These adjustments involve the skilled manipulation of the spine and joints. They are to restore proper alignment and improve the range of motion. This can help to relieve pain, reduce inflammation, and improve function.
Physical therapy is often used to help patients recover from injuries.
Those injuries typically affect their ability to move and function. This may include exercises designed to improve strength, flexibility, and balance. And manual therapy techniques like stretching and joint mobilization can also be applied.
Massage therapy is another key component of the clinic's treatment approach.
Therapeutic massage can help to reduce muscle tension, improve circulation, and promote relaxation. This is helpful for patients with pain or discomfort due to muscle strain.
Finally, our chiropractic clinic also offers rehabilitation services.
They are aimed at helping patients regain function and mobility following an injury. This may include gait training, balance exercises, and strength training.
To get timely help, you can make an appointment for a consultation by calling 972-964-7696. You can also use the contact us button. You must fill out a client card, and our manager will contact you.
Schedule Your Appointment Now