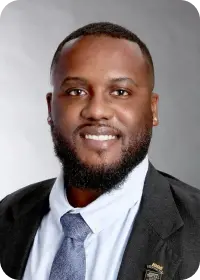 Antonio Harris, D.C.
Hi there, I'm Antonio Harris and I'm excited to share with you about my education, work, and mission as a chiropractor in Carrollton, TX. My passion for chiropractic and helping patients recover from musculoskeletal injuries led me to become a part of the team at All Injury Rehab.
As a responsible chiropractor in Carrollton, TX, I provide patients with the best care possible through chiropractic adjustments and rehabilitative exercises. With my long-term practice and knowledge, I try to help patients not only during our sessions but also after them. I provide detailed advice that they can easily use in their daily lives.
/** * Block Name: About Chiropractor block */ ?>
About Antonio Harris, D.C.
Coming from a military family. I've been inspired by the different cultures I've come across. Entering and helping people is something I take pride in, so I make it personal responsibility to at leat greet someone in their native language, so far I can say "Hello". (I 6 different languages!)
When I'm not busy in the clinic, you'll find me playing pickup basketball in local rec leagues, looking for big fish in the teras ponds, hanging out with my beautiful family or being involved with my fraternity or chiropractic organizations I am a part of.
Education
UNDERGRAD:

University of Central Oklahoma

PROFESSIONAL:

DEGREES:

V.S. in Kinesiology, D.C. Chiropractic

ACCOMPLISHMENTS:

Certified fall prevention specialist for adults >65 years old, trained in myofascial release technique.
Work & Mission
PREVIOUS WORK EXPERIENCE:

Multidisciplinary settings such as the veteran affairs Hospital, where I got to work closely with medical doctors as a referral source.

MISSION:

To help patients recover from acute musculoskeletal injuries quickly through chiropractic adjustments and rehabilitative exercises
My aim is to empower communities by restoring structure and function to the spine while educating and providing a positive experience with chiropractic.