/** * Block Name: Content single post */ ?>
Are aches in the body increasingly bothering you? Save yourself from this discomfort and contact chiropractors. With the progress in their field, they know many new methods to solve this. One of the popular ways to get rid of back and neck pain that more often annoys people is using a chiropractic clicker tool. It is such an activator that it can quickly relax the nerves. Thus, it restores the normal function of the organs. Such a tool helps for:
Scoliosis.

Kyphosis, torticollis, and outstretched legs.

Dizziness.

Headache, insomnia, forgetfulness, drowsiness, ringing in the ears, neck pain and stiffness, stiffness of the occipital muscles, numbness of the hands, shoulder pain, dry eyes, blurred vision, and so on.

Chest pain.

Pinching pains, shortness of breath, palpitations.

Lumbar spine.

A

herniated disc

, spondylolisthesis, spinal stenosis, and the like.
What does a chiropractic activator do? It is a tool for soft, painless correction of the spine and joints. It allows chiropractors to direct the cumulative force to a specific body segment. Thus, it helps to improve the mobility of the spine, neck, and joints.
/** * Block Name: Content single post */ ?>
What Does a Chiropractic Activator Do?
Let's delve into a more detailed understanding of what this tool does. Let's start with the fact that this is a thing that is common among many chiropractors. They use it in their practice to ensure the health of their patients. This tool mainly aims to treat the back, neck, and joints. The activator is an alternative to traditional methods of manual therapy. It means that patients do not experience any pain or discomfort. While the patient lies comfortably, the chiropractic clicker tool creates movement in the sick area. It fixes and restores its functions. 
Here are the steps of its working:
First, a chiropractor examines the patient's spine and joints in detail. They should know in which body points they will work.
Next, the specialist uses an activator to move the affected area slightly. You can feel this movement. But it does not cause much discomfort.
After the chiropractor adjusts the spine and body segments, they can make recommendations. 
They usually relate to setting up a routine and exercises to support spine health.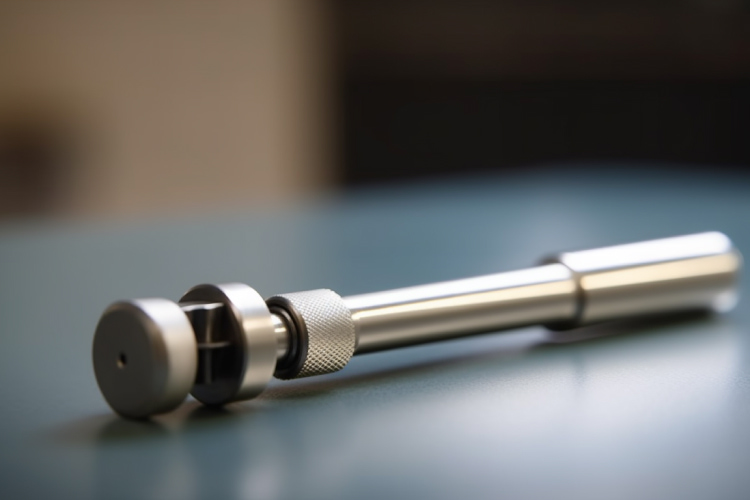 /** * Block Name: Content single post */ ?>
Benefits of Chiropractic Clicker Tool
Chiropractors are trying to expand their field more and more. And they succeed thanks to practical techniques. For example, people can get many health benefits by using the chiropractic clicker tool. One of the advantages is that it is a very gentle instrument. The light high-speed pulses of the device are not perceptible. Thus, during the procedure, you only feel the soft touch of this tool on your body.
In general, this activator revolutionized manual therapy. Because it combines many good things. This includes lightness, efficiency, and ease of use. Thanks to this, this procedure has become popular in the field of chiropractic for a reason. And what other advantages does it have? Keep a list of the most popular of them:
1. It can fix your back
A large part of the human population suffers from scoliosis and similar problems. To correct this problem, chiropractic activator comes in handy for many. It helps restore bones or vertebrae that may be misaligned. That is, this tool gradually stabilizes your posture. So, regularly going through this procedure can improve your posture.
2. It is painless
Some patients talk about feeling sore after using a chiropractic activator. It is normal because your body is healing itself after it. But the process of using the activator itself is not painful. You don't feel anything except the gentle touch of it on the areas you are treating. 
3. It is a precision tool
The fact is that the activator can accurately determine the point where there is stiffness or inflammation. Directing it to the problem area precisely treats what you need. That is, the activator does not remove pain in the circumferential zones or the approximate location. Chiropractors direct the tool to exactly that place you want to recover.
4. It is effective in specific conditions
The next advantage is that this tool can help not only with the back and joints. It also helps with many other diseases and problems. It includes headaches, radiculopathy, and compensatory dysfunctions. It is far from all the issues that this magical tool can cure. But these examples are enough to understand how effective this procedure is.
5. It helps with arthritis
Since it is good for the joints, it helps with arthritis. The chiropractic clicker tool allows you to gently adjust the joints' structure. It also increases their flexibility, contributing to the improvement of joint function. Thus, it is one of the most effective methods for treating this disorder.
/** * Block Name: Content single post */ ?>
Sore After Chiropractic Activator
When starting any procedure, being aware of its consequences is crucial. Obviously, you expect positive changes after using the chiropractic activator. But sometimes, after that, you may experience painful sensations.
It is very typical to feel ache after a chiropractic adjustment. But the reason you feel discomfort is unique to each person. Why do you experience pain after the procedure? It can be for the following reasons:
Not all people follow physical exercises. If you are among such people, sore after chiropractic activator is normal. It is simply because you have muscle weakness. And because they are not used to it, they feel pain after the procedure.
Your body is used to a particular position
When you have some spinal issues corrected by a chiropractor, it is common to experience pain. It is because your body is used to the wrong position. And when the procedure corrects it for you, you get used to a new one that causes discomfort.
If you want to perform this procedure without a sore after the chiropractic activator, contact All Injury Rehab & Chiropractic. Our specialists will do it not only painlessly but also efficiently.
FAQ
When is the activator method not effective?
The activator method may not be effective for patients who have severe joint or bone injuries. It involves fractures, dislocations, cancer, or severe arthritis.
Is the chiropractic activator safe?
Yes. The chiropractic activator is generally safe. But it is when this is done by trained chiropractors. If the specialist does the procedure incorrectly, some people may experience increased discomfort.
What does an activator do to the spine?
The activator's precise technique on the spine helps trigger a neurological response. It relaxes tight muscles and promotes better communication between the brain and spine. It may aid in pain relief and improved range of motion.
Is chiropractic natural healing?
Yes. Chiropractic care is a drug-free and non-surgical approach. It relies on manual adjustments and other natural techniques to ease healing. So, it aligns with the concept of natural healing with the ability to repair the body itself.