/** * Block Name: Content single post */ ?>
According to statistics, nearly 43,000 fatal crashes a year in the U.S. Distracted driving is a major cause of accidents. Failure to follow traffic rules is also a factor that causes problems on the road. Injured drivers often experience shoulder and arm pain after a car accident. If you face such trouble, you may feel pain in:
In this case, the most important thing is not to panic. Get all the bad thoughts out of your head and prepare for chiropractic. It is a natural way to deal with injuries without different medications or surgery. Chiropractic care can help diagnose your problem and speed healing. Besides, a chiropractor can recommend exercises and rehabilitation procedures. They can strengthen your muscles and improve mobility. It contributes to the full recovery of your shoulder, arm, or wrist functions. So, do you want to end shoulder injuries from car accidents as soon as possible? Continue reading.
/** * Block Name: Content single post */ ?>
Symptoms of Arm and Shoulder Injuries from Car Accidents
Automobile accidents are unexpected, sudden occurrences that seriously injure anyone involved. Arm and shoulder injuries are among the most typical car crash injuries. Such damages often call for medical attention. They can cause excruciating pain, headaches, and restricted mobility.
When it comes to shoulder and arm pain after a car accident, one of the most frequent symptoms is intense pain. The force of the collision can cause fractures, dislocations, or soft tissue damage. It results in severe discomfort that may persist for an extended period. This ache can interfere with the injured person's ability to do daily activities. So, it affects people's work, personal life, and overall well-being.
Furthermore, such traumas frequently harm mobility. Muscle spasms and inflammation may restrict the joint's range of motion. Simple activities like reaching for things, getting dressed, or driving might become nearly impossible. And what are other arm injuries from car accidents? Keep a list of them:
Numbness or Tingling
These manifestations are very uncomfortable and even painful. These symptoms may appear several weeks after the injury. In the absence of treatment, they can continue for a long time. Numbness and tingling are usually caused by damage to the nerves in the shoulders. It can happen due to a strained or torn muscle. Sprained or torn ligaments or broken bones can also cause this.
Pain During Movement
This unpleasant symptom can spoil everyday functioning and the person's quality of life. Sometimes, the pain may not appear immediately after the collision. And it grows gradually over time. The causes of pain during movement can be various. But usually, it is from a severe shoulder or arm injury. In this case, shoulder pain lasts weeks after a car accident.
Stiffness and Limited Range
These symptoms could state a soft tissue injury or damage to the joint and ligaments. It can cause a feeling of discomfort and restriction of movement. It makes it difficult to perform actions such as reaching or turning. So, it is crucial to take these symptoms seriously. Because they can be indicators of a more severe injury. This can lead to static and reduced range of motion.
Swelling or Bruising
These symptoms are the most common after a car crash. After all, any serious injury to the body leaves behind bruises. They occur when blood vessels rupture due to impact during an accident. It leads to a characteristic change in skin color. Swelling and bruising may also manifest in pain and tenderness to the touch. It is a normal body reaction after shoulder injuries from car accidents. But you should treat it to avoid it faster. 
/** * Block Name: Content single post */ ?>
Possible Arm Injuries from Car Accidents
After being in a car accident, the arms suffer the most. Collision forces often result in hand injuries. It can be just damage in the form of a bruise or a broken bone. It depends on how serious the accident was. The most typical arm impairments are:
It is a widespread problem after a car crash. After getting into a collision in the car, the driver tries to hold the steering wheel. But the car's collision with another object is so strong that it leads to a broken arm. Usually, such an injury requires a plaster cast. With a severe fracture, sometimes doctors perform surgical intervention.
It is similar to a broken arm. The force of the collision puts pressure on the hands. As a result, it leads to dislocation of the joints. After such arm injuries from car accidents, a person feels pain, swelling, and limited movement.
As a result of a road accident, the connective tissue can tear from the arm bone. It causes pain, swelling, and discomfort. Chiropractors usually treat it in a couple of weeks.
/** * Block Name: Content single post */ ?>
Possible Shoulder Injuries from Car Accidents
Whether you are a driver or a passenger, a high-impact collision can cause severe damage to the shoulder. It causes many complications for a person. After all, such an injury prevents the normal functioning of the hands. But thanks to chiropractors, you can fix it quickly. Based on our observations, drivers often receive such shoulder injuries from car accidents:
High-impact energy can lead to the tearing of shoulder joint tissues. It requires diagnosis and specialized treatment. It gives a higher chance of restoring the joint's stability quickly.
The shoulder can come out of the joint during an accident. It leads to pain and restriction of movement. Proper rehabilitation can help correct the shoulder to its normal state.
A strong blow can damage the shoulder's muscles, tendons, and joint structures. So, shoulder pain can last weeks after a car accident. Massage therapy can relieve pain and promote healing.
/** * Block Name: Content single post */ ?>
Treatment for Arm and Shoulder Pain
Any injury requires appropriate treatment. It is for you to be healthy and get rid of discomfort. But sometimes, people can be seriously injured. It needs highly specialized therapy and rehabilitation. This especially applies to arm injuries caused by accidents. For some, only a massage may be enough to relax the muscles of the arms. And someone needs a complete restoration of the bones or ligaments of the hand. That is, it is an individual process. Depending on the complexity of the damage, chiropractors prescribe different types of treatment. It may be:
Using Injections.

Heat Therapy.

Physical Therapy.
Does your left arm hurt after a car accident? Do you feel unable to move your shoulders? The main thing is to contact specialists in time. After all, if you ignore this problem, it can stay with you for the rest of your life. And hardly anyone needs such issues. So, the most popular types of treatment for shoulder and arm pain after a car accident are:
Physical Therapy
Doctors prescribe this type of therapy because it helps maintain hand mobility. It restores them fully, reduces pain, and increases muscle tone. Physical therapy may include massage, muscle stretching, and electrical stimulation. Also, the doctor can prescribe laser therapy and other individual exercises. It is to restore the mobility of the shoulders and arms.
Chiropractic Treatment
One of the most effective methods is chiropractic. Thanks to this treatment, you can improve your health. Chiropractors know how to work with bones, ligaments, and muscles. Thanks to this knowledge, they restore the functionality of hands after accidents. Chiropractors work only with manual methods that enhance the shoulder and arm condition. By aligning the bones, chiropractic helps improve joint and muscle mobility. Also, chiropractic helps not only to get a person out of pain. It also maintains the general state of health.
Using Injections
Sometimes, you can not do without injections to treat shoulder and arm pain after a car accident. Doctors usually use them to relieve excruciating pain. It also can prevent the development of infections. Injections can effectively help restore mobility. They have antibacterial effects and promote faster recovery of tissues.
Heat Therapy
Heat therapy is one of the most effective methods. Doctors apply heat compresses. Or they use specific devices that generate heat in the affected area. It positively affects the body, as heat promotes the expansion of blood vessels. It helps reduce pain and improve blood circulation in the injured area. Besides, heat therapy helps to relieve muscle tension. It makes the recovery process more practical.
Acupuncture
Does your shoulder pain last weeks after a car accident? Specialists may prescribe acupuncture to you. This unique approach consists of fine needles' effect on particular points in a body. It stimulates the natural mechanisms of tissue regeneration. Also, it ensures normal blood and oxygen flow to the damaged tissue.
Massage Therapy
In general, the use of massage therapy in the treatment of arm and shoulder injuries is effective. It improves the mobility and quality of life of people recovering from an accident. So doctors recommend this method for those who have survived a car accident. This process increases blood circulation and improves lymph drainage, which helps reduce swelling. Massage also reduces the risk of improper tissue healing and promotes muscle relaxation.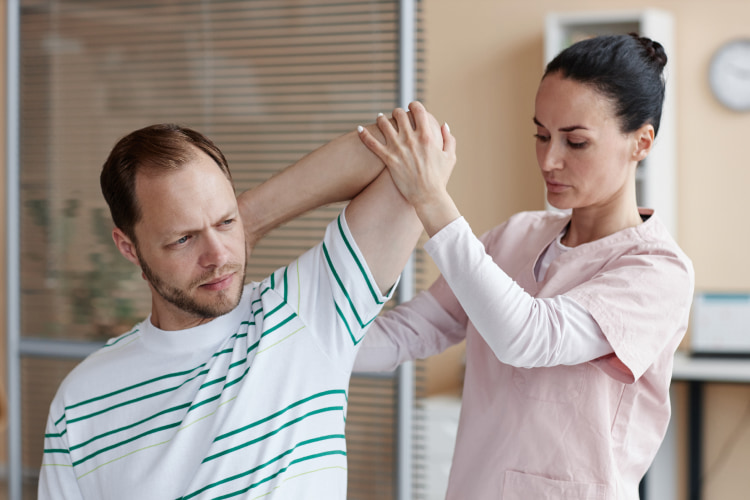 /** * Block Name: Content single post */ ?>
Benefits of Chiropractic Treatment for Arm and Shoulder Pain
When undergoing a course of treatment, it is crucial that it is effective. The specialist should provide patients with the maximum benefit from cure procedures. So, faced with shoulder and arm injuries from car accidents, it is vital to contact quality specialists. Chiropractors are one of these. Their therapy technique treats such injuries with incredible benefits.
Chiropractors usually prescribe various methods of therapy and prevention. It all depends on how badly you damaged your hands. But the bottom line is that, in any case, it is very effective. Chiropractic care provides a non-invasive, drug-free alternative for treating arm and shoulder pain. It focuses on natural methods of promoting the healing of damages. 
Chiropractic treatment can also reduce inflammation in the affected areas. It promotes the natural healing process. Need more advantages for you? Want to learn more about the benefits of wonderful chiropractic techniques? Keep an extra list of them for treating arms and shoulders:
Non-Invasive and Drug-Free Approach
Arm and shoulder injuries are one of the most painful and traumatic consequences of an auto accident. The surgical approach can be very painful and not always practical. However, chiropractic treatment can be innovative and painless. This approach guarantees the absence of drugs and other chemicals. It lowers the risk of side effects and improves the patient's health.
Improved Range of Motion
After an accident, injuries and joint contamination can severely limit mobility. Chiropractic treatment focuses on restoring the normal functionality of the motor system. Corrective manipulations help relieve tension, improve blood circulation, and restore range of motion. In this way, it is easier for you to heal shoulder injuries from car accidents.
Easy Pain Relief
When chiropractors use their healing methods, it is not only beneficial. In addition, it is pleasant. According to All Injury Rehab data, patients get pain relief in the damaged areas after the first procedure. After all, manual processes give the patient relaxation and comfort to the muscles.
FAQ
How long does shoulder pain last after a car accident?
Each body recovers from the impact of the accident differently. It depends on how severe your trauma is. Some individuals experience relief within a few weeks. And others may find it persists for several months.
Do I need a massage or a chiropractor for shoulder pain?
It depends on the type of pain you are experiencing. Both massage and chiropractic care can be beneficial for shoulder pain. But the doctor selects the exact treatment option for you.
How long does a shoulder and arm injury take to heal?
There is no fixed timeline for the healing. After all, each experience improvement is individual. It depends on injury, age, and health.
Do shoulder injuries heal on their own?
No. Complete healing without medical intervention is not always guaranteed. It's because shoulder injuries are complex. So, seeking medical advice for proper assessment is essential.